Welcome to Brad Amos Dermatology!
Dr. Amos is a board certified Dermatologist committed to the treatment of early skin cancer detection and to provide quality service in a relaxed, friendly atmosphere.

Dr. Amos and his Physician Assistant's treats skin cancers, rashes, psoriasis, acne, warts and all conditions associated with the skin.

We perform many procedures right here in the office.  Some of the procedures we perform are:  full body skin exams, biopsies, surgeries, accutane therapy, narrowband UVB and PUVA light therapy, Xeomin injections for fine lines and wrinkles, Botox injections for hyperhidrosis, as well as BLU-U® Blue Light Photodynamic Therapy.
New Name, New Location - Same Great Service!
Posted on
08/07/2018 14:54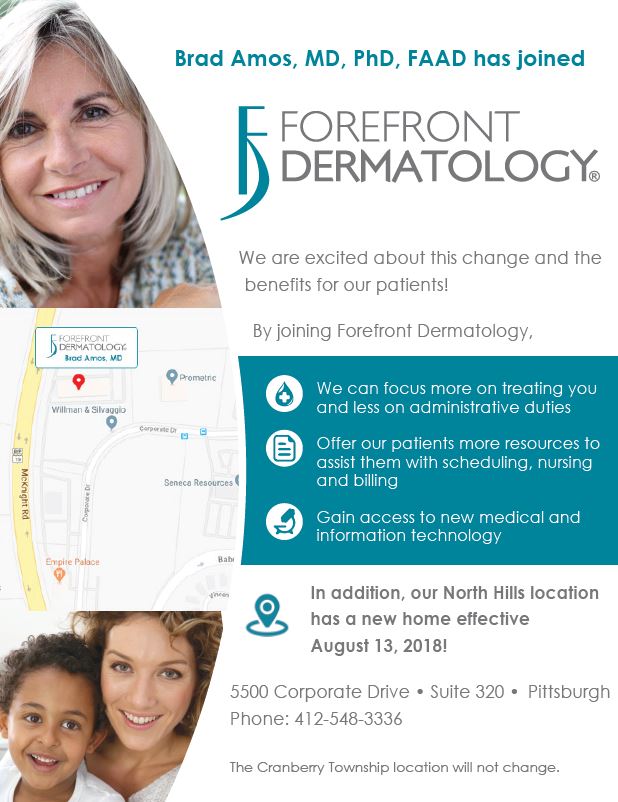 Accepted Insurances
Accepted Insurances
AARP Medicare Advantage PPO

AARP Medicare Complete (HMO)

Aetna Choice POS (Aetna HealthFund)

Aetna Choice POS (Open Access)

Aetna Choice POS II (Aetna HealthFund)

Aetna Choice POS II (Open Access)

Aetna DC Bronze, Silver and Gold HNOnly

Aetna DC Bronze, Silver and Gold OAMC

Aetna Health Network Only (Open Access)

Aetna Health Network Option (Open Access)

Aetna HealthFund Aetna Health Network Only (Open Access)

Aetna HealthFund Aetna Health Network Option (Open Access)

Aetna Medicare Open (Private Fee-for-Service)

Aetna Medicare Plan (HMO)

Aetna Medicare Plan (Open Access HMO)

Aetna Medicare Plan (PPO)

Aetna Open Access Managed Choice POS (Aetna Health Fund)

Aetna Premier Care Network

Aetna Select (Open Access)

Aetna Value Performance Network

First Health for Assurant Health Access Plans

Choice Fund Open Access Plus

Choice Fund Open Access Plus with CareLink

Open Access Plus/CareLink

Community Blue Flex - PA Mountains Healthcare Region

Community Blue Premier Flex

Comprehensive Care Blue PPO

North Region: TRICARE Prime

North Region: TRICARE Prime Remote (TPR)

North Region: TRICARE Reserve Select (TRS)

North Region: TRICARE Retired Reserve (TRR)

North Region: TRICARE Standard

North Region: TRICARE Young Adult Prime

North Region: TRICARE Young Adult Prime Remote

North Region: TRICARE Young Adult Standard

South Region: TRICARE Prime

South Region: TRICARE Prime Remote (TPR)

South Region: TRICARE Reserve Select (TRS)

South Region: TRICARE Retired Reserve (TRR)

South Region: TRICARE Standard

South Region: TRICARE Young Adult Prime

South Region: TRICARE Young Adult Prime Remote

South Region: TRICARE Young Adult Standard

West Region: TRICARE Prime

West Region: TRICARE Prime Remote (TPR)

West Region: TRICARE Reserve Select (TRS)

West Region: TRICARE Retired Reserve (TRR)

West Region: TRICARE Standard

West Region: TRICARE Young Adult Prime

West Region: TRICARE Young Adult Prime Remote

West Region: TRICARE Young Adult Standard

Enhanced Access HMO and POS Plans

Premium Network Plans - PPO and EPO Plans

Select Network Plans - EPO and HMO Plans

Standard Network Plans - HMO Plans

UPMC Business Advantage HMO (Referral Required)

AARP Medicare Advantage HMO

AARP Medicare Complete Plan 1 (HMO)

AARP MedicareComplete Plan 2 (HMO)

UnitedHealthcare Charter HMO/ Charter Balanced HMO/ Charter Plus HMO

UnitedHealthcare Charter/Charter Balanced

UnitedHealthcare Choice Plus